Wladimir Ledóchowski 1866-1942
Superior General of the Jesuits,
"Black Pope"

Wladimir Ledóchowski was the 26th Superior General of the Society of Jesus ("Jesuits"), known as the "Black Pope".  He was considered one of the two or three greatest heads of the Order ever.  His legacy is marred by allegations of collaboration with Fascism, while other evidence suggests he fought hard and led Vatican Radio's struggle against Nazi Germany, and the New York Times obituary said he "earned the bitter enmity of the Nazis".
Wladimir benefited greatly from an excellent education.  He was exceptionally talented, had a humble air about him, was rather small, and spoke quietly, forcing people to listen to him intently (1, p107).  My father claimed the family joked he was so quiet he could not lead a sung Mass.
I end this article with comments on the controversy and anti-semitism.
*****

1866: Loosdorf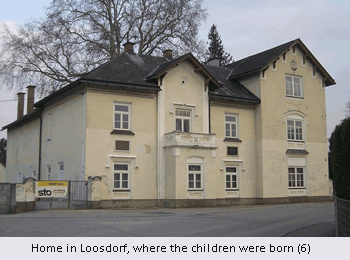 Wladimir (pronounced "Vladimir") Dionysius (Włodzimierz Dionizy) Ledóchowski was born in Loosdorf, Austria, about 80 kilometres West of Vienna, on 7th October 1866.
He was the third child of Antoni Ledóchowski and his second wife Józefina née Salis-Zizers, who was Swiss-Austrian and whose story is told in a separate article. 
They instilled in all seven children a strong sense of duty to God, the Catholic Church and their father's country, Poland.  
The eldest two were the future Blessed Maria Teresa and Saint Urszula, and the youngest the future General Ignacy Ledóchowski, my grandfather.


Another Ledóchowski was also called Wladimir when born ten months earlier, on 24th December 1865.  This was the first time the name Wladimir appeared in the family, at least for many generations.  Later Ledóchowskis, for example my father, Wladimir, were no doubt named after the Jesuit, but in the case of these first two Wladimirs one wonders whether the inspiration came from Prince Wladimir the Great of Kievan Ruś, who brought Christianity to the Principality of Ruś or Ruthenia in 988 AD, nearly a thousand years earlier.  In January 2020, Wladimir was the first name of two Presidents: those of Russia (Putin) and Ukraine (Zelensky).


1873: St. Pölten
In 1873, when Wladimir was seven, his father lost a major investment in an Austrian bank which failed (2, p10). He sold Loosdorf and the family moved a little closer to Vienna, to St. Pölten, where the eldest girls could go to a school run by the Loreto Sisters, or the Institute of the Blessed Virgin Mary, and Wladimir could go to primary school. 
Polish patriotism
The children grew up under a portrait of their one-legged grandfather, an earlier General Ignacy, in the living room (3, p10), listening to their father tell stories about the General's heroic defence of Modlin, and about their great aunt Maria Rozalia's defence of the Catholic Church in the Russian partition, for which she was interned and eventually expelled from Russia.

In early 1876 the 10 year old Wladimir accompanied his family to Vienna to meet his uncle, Cardinal Mieczysław Ledóchowski, son of Maria Rozalia, and his father's first cousin.  The Cardinal was being greeted everywhere as a great hero for his defence of both the Catholic Church and Polish culture against Bismarck's Kulturkampf. For this he had been imprisoned for two years, expelled from the German partition, and promoted to Cardinal. He was now on his way back to Rome. The Cardinal made a great impression on Wladimir and the other children, which strengthened their patriotism and encouraged them to learn Polish from their father.


In 1879 the eldest child, Maria Teresa, accompanied her father on a trip to Poland.  The warmth of their relatives convinced Antoni that they should consider moving there.  The move to Lipnica Murowana, in Galicia, the Austrian partition of Poland, took place in 1883, encouraged and partly financed by the Cardinal as described elsewhere. 
Wladimir, who at one point was page to Empress Elizabeth of Austria (4), was by then 17 and finishing the prestigious Theresianum Imperial Royal Academy boarding school in Vienna, where he received a very good education in German and excelled in foreign languages including Latin.  For his outstanding results he was awarded the school's gilded bronze Imperial Medal (5).  He went on to study law in Kraków.

In early 1885, Wladimir's eldest sister Maria Teresa caught smallpox and eventually recovered.  However their father, Antoni, caught it too, and he died during an asthma attack on 24th February 1885.
1885: Tarnów Seminary
The death of their father was a great shock for the teenage children, and the eldest three shortly left home.  Wladimir, who had spent a year at the Jagiellonian University in Kraków studying law (4), changed his vocation and in October 1885 entered the seminary in Tarnów.  In November his eldest sister Maria Teresa left to become Lady-in-Waiting at the Court of Princess Alice in Salzburg, and the next year his second eldest sister Julia entered the Ursuline convent in Kraków. 


Early career
Wladimir's career then proceeded quite quickly:

● In 1887, persuaded and supported by his uncle Cardinal Mieczysław, he went to the Pontifical Gregorian University in Rome, which he completed with a doctorate in 1889.  While there he decided to join the Jesuits.
● In 1889 Wladimir returned and entered the Jesuit Novitiate (training college) at Stara Wieś ("Old Village") in Galicia, the Austrian Partition of Poland, while simultaneously studying theology in Kraków. 
● On 10th June 1894, aged 28, he was ordained as a priest, by Cardinal Albin Dunajewski.
● Being good at writing and expressing his thoughts, he joined the editorial board of the Jesuit monthly magazine Przegląd Powszechny ("Universal Review") run by Father Marian Morawski in Lwów, the capital of Galicia.   Using his organisational skills, he founded an association for young craftsmen, setting up its constitution and structure.
● On 3rd December 1898, aged 32, he was appointed Superior of the Jesuit house at St. Barbara's church in Kraków.
● In 1901, aged 35, he was appointed Vice Provincial and on 21st November 1902 Provincial of the Jesuits in Galicia. 
● In 1906, aged only 40, Wladimir was already a candidate for the post of Superior General of the Jesuits and received 13 votes in the first and second round of the election (4).
● On 14th September 1906, Franz Xavier Wernz, who won election as 25th Superior General of the Jesuits, appointed Wladimir Administrative Assistant for all the Jesuit provinces in Austro-Hungary, Germany, Holland and Belgium.  His excellent native German learnt at his mother's knee and at the presitigious Theresianum high school in Vienna was no doubt an essential qualification for this position.
● Wladimir gained a reputation for skilful mediation and diplomacy when he resolved misunderstandings between Pope Pius X and the Jesuit Superior General Wernz. 
1915:  Superior General of the Jesuits
On 11th February 1915, after the death of Wernz (and Pope Pius X) the previous year, the 48 year old Wladimir Ledóchowski was elected Superior General at the second vote of a congregation of Jesuits in Rome, and continued at this post until his death 28 years later.  Like some other Superior Generals, he was known as the "Black Pope", perhaps because of his black robe, in contrast to the actual Pope's white, or because of his organisational skills leading a very successful period for the order, or because of his humble and quiet way of talking, which compelled people to listen to him carefully, or because the Jesuits were and are the largest religious order in the Catholic Church, or simply because of his great influence on successive Popes.

On 23rd May 1915, three months after Wladimir became Superior General of the Jesuits, Italy joined the Allies and declared war against Germany and Austro-Hungary.  As an Austrian, and therefore enemy citizen, Wladimir had to leave Italy.  The Society's headquarters, or "General Curia", moved to Switzerland and for a time were based at the castle at Zizers owned by the family of Wladimir's mother, Józefina Salis-Zizers.  He returned to Rome only in December 1918.
Jesuit achievements under Wladimir Ledóchowski
Wladimir was the fourth longest in his post.  Mieczysław Ledóchowski's book (1), and obituaries in e.g. the New York Times ("NY Times",4), London Times (10) and Die Weltwoche, Zurich (21), describe the achievements of the Jesuit order and Wladimir during his period as Superior General in great detail.  For example:
● He reformed and published new versions of the Jesuits' constitution, education methods and subjects taught at Jesuit schools.
● Convened General Congregations in 1923 and 1938, rare events, for this purpose.
● A large new General Curia (headquarters building) was built in Rome.
● It included a special new secretariat Nuntii de missionibus for overseas missions and a new Historical Institute Institutum Historicum Societatis Iesu to archive, research and record the history of the Society. 
● Rehoused and extended the Gregorian University in Rome.
● New missions were established in China, Japan, India, Moslem countries and Africa, and new Novitiates (training colleges) founded for trainee Jesuits from those areas.
● The order, which was suppressed by the Pope between 1773 and 1814 in all Catholic countries, grew from 17,000 Jesuits in 27 provinces when Wladimir was elected Superior General in 1914, to 26,000 Jesuits in 50 provinces when he died in 1942.
● The number of Jesuits beatified or canonised grew from 91 to 141.
● Promoted unity between Christian churches and, particularly, East and West.
● Spurred the Jesuits into promoting the rights and welfare of labour and establishing labour colleges in the USA.  This may well have been inspired by his own experience with labour organisations in Lwów as a young man.
● Focussed Jesuits on the needs, rights and progress of "Negroes" (sic, NY Times, 4) in the USA.
● According to Dr Nicholas Murray Butler, who visited Rome in 1930, "Everywhere I was told that Father Ledóchowski would rank as one of the two or three greatest heads of the Order" (4).
● Fought attacks on his order by Communists in Mexico and Spain. 
● Considered an enemy, attacked and threatened by Nazi Germany, as described later.
● "He combined deep religious feeling and spiritual insight with a capacity for practical affairs" according to the London Times (10).
Wladimir's languages were no doubt a great asset.  In addition to the Latin he learnt at school, he spoke excellent German, French, Polish and Italian, and even some English, enabling him continually to interject "God bless you" into conversations with English or American visitors (10).


Support for Poland
Whereas Wladimir was born, bred and educated in the best German in Austria during the first 18 years of his life, for the next 20 years he was based in Poland, strengthening his feelings for that country.  These feelings continued after he took up his post in Rome.
● On 26th October 1918 he wrote to Jesuit leaders in Kraków joyfully welcoming the independence of Poland and changing the name of the Jesuit province from Galicia to Poland.  In this letter he mentions Our Lady "Virgin Mary Queen of Poland" and the great Polish Jesuits Piotr Skarga, Stanisław Kostka and Andrzej Bobola.
● On 11th June 1920 he wrote "as a son of the Polish Jesuit province" to the head of the  province celebrating its 100th anniversary.
● The Jesuits persuaded Pope Pius XI to recognise miracles by the Polish Jesuit, St. Andrzej Bobola, who was canonised on 17th April 1938.
1942: Death in Rome
Wladimir Ledóchowski died aged 76 in Rome in the middle of the Second World War, on 13th December 1942, when the Nazi Axis Alliance of Germany, Austria, Japan and Italy was at its peak, and was buried in Campo Verano cemetery.  He lived in a period of dramatic changes.  He was born and brought up in the feudal world of Imperial Austria, then spent over 20 years in the Polish part of the Austrian Empire, another 9 years with wider responsibility as head of the Jesuits in German speaking countries, and was finally based in Italy, where for 28 years he was head of the whole Jesuit order, and where he died, amidst the huge challenges and unimaginable horrors of the Second World War.
Comments by Mieczysław Ledóchowski
In his book about the family (1, p109), Mieczysław quotes family members and numerous others who knew Wladimir General of the Jesuits, speaking about him in hushed tones of great respect, rather than great emotion. 
In Mieczysław's opinion, Wladimir was the most outstanding of the three elder siblings (Maria Teresa, Urszula and Wladimir) and achieved the most, even though he was distant and not especially liked - because, according to some family members, he ruled the Order with iron discipline, of the kind imposed by his younger brother and my grandfather General Ignacy Ledóchowski on his children.

In my view, they were very different.  Wladimir worked his way to the top of a huge existing organisation, the biggest Catholic order.  It is male and has an intellectual tradition for which he was well suited.  Maria Teresa and Urszula established completely new organisations.  They are far smaller than the Jesuits but their establishment and development took a lot of initiative and skill.   They are models of female virtue: they are gentle, loving, and caring, which is why their founders were nicknamed respectively "Mother of Africa" and "Mother".
The Controversy

Claims of Collaboration and Anti-Semitism
When I asked Mieczysław about the accusations against Wladimir, he dismissed them as "rubbish".  However it seems to me that the family record I have prepared has to mention them, extremely painful for us as they may be, at the least to recognise the fact that they exist, and to inform readers who might otherwise find themselves quite unprepared to discuss them.  So I outline below information I have assembled on the struggles between the Catholic Church and the Jesuits on the one hand, and Communism and Fascism on the other, from the First Word War to Wladimir's death.  I end this article with my thoughts on anti-Semitism.
1920 - 1939:  Fighting Communism
When Communist "Bolshevik" Russian armies invaded Poland and tried to besiege Warsaw in 1920, the Papal Nuncio (Ambassador), Achille Ratti, witnessed the terror of the Poles faced by this invasion, but bravely refused to leave.  Wladimir Ledochowski would have been fully aware that his brother, General Ignacy, was fighting for Poland in that war, for which he was highly decorated.  He would have remembered that his great aunt Maria Rozalia was expelled from Tsarist Russia for defending the Catholic Church there.
Jews fought bravely on the Polish side in Lwów and elsewhere.  But because Marx, Trotsky and many other Jews were leading Communists, many anti-Semites claimed Communism was a Jewish conspiracy (just as others claimed Capitalism was a Jewish conspiracy - people seem generally happy to blame Jews for anything). 

The war ended with Polish independence and victory for the "West", but left the Nuncio "with a lasting conviction that Communism was the worst enemy Christian Europe had ever faced".  On 22nd January 1922 the Nuncio was elected Pope Pius XI.  He and Wladimir sent Jesuits to Russia to support the Papal Relief Expedition, including a French Jesuit, Bishop Michel d'Herbigny, who had the power to consecrate more bishops in Russia as he saw fit.  However the priests and bishops were found and arrested or sent to labour camps and d'Herbigny was withdrawn (11).

On 1st December 1924, Plutarco Calles was elected President of Mexico on a left-wing Communist-sounding platform of more equality and land redistribution.  In 1926 he introduced state atheism and started closing churches, confiscating land and violently persecuting the clergy. 
Priests were now criminals and went into hiding.  In 1927 a Jesuit, Michel Agustin Pro, was discovered and just managed to shout "Viva Cristo Rey" ("Long live Christ the King") before he was shot in a public execution in front of the press.  A civil war developed in which 100,000 people died.  By 1935, 4,000 priests had been executed and expelled, and in many areas there were no priests left at all (11).
In 1931 Republican parties won a landslide victory in Spain and vowed to reform the land tenure system, improve education and "curb the clergy's influence in society".  King Alfonso XIII fled and took refuge in Mussolini's Italy.   Religious buildings in Madrid were burnt down.  The Jesuits lost their houses, churches and colleges in Madrid, Seville, and other major cities.  In 1932 the Republican government ordered the Society dissolved and expelled Jesuits from the country.  But many Jesuits and other priests remained, disguised as normal workers, to serve Catholics in secret. 
In 1934 two Jesuits were arrested for looking like priests. They embraced each other and, like in Mexico, shouted "Viva Cristo Rey" ("Long live Christ the King") before being shot in an old mine.  In 1936 the army rebelled against the Republican government, starting the Spanish Civil War.  For a priest, discovery meant death.  That year 48 Jesuits were killed (11).
Claim:  Pope Pius XI and Wladimir saw Russia and Communism as the Church's prime enemy.
Reply:  You can see why.

1920 - 1935:  Fascism in Italy

In Italy, on the other hand, we had Fascists.  Benito Mussolini had led Fascist troops in a mass demonstration known as the "March on Rome", and on 29th October 1922, King Victor Emmanuel III appointed him Prime Minister, in what was effectively a coup d'etat.  Known informally as Il Duce ("The Leader"), he started the "Pacification of Libya", bombed Corfu, outlawed strikes, and used his secret police to establish a totalitarian state.  But it was not as violent as the later Nazism in Germany and people joked that chaotic Italians needed discipline and Mussolini had made the trains run on time. 

From the Catholic Church's point of view, the Mussolini regime had at this time some redeeming features.  It claimed to be the enemy of Communism, and as Churchill and Roosevelt reasoned when dealing with Stalin, "the enemy of my enemy is my friend".  The regime was not shooting priests and it was open to negotiate the return of Church property confiscated by earlier Italian governments.  So Pope Pius XI, as well as negotiating Concordats with countries such as Poland, signed a Concordat with Mussolini: the so-called Lateran Pacts signed on 11th February 1929.  The Church received financial compensation for earlier confiscations, and the tiny Vatican City was recognised as an independent state, surrounded by, and therefore forever dependent on the goodwill of, Italy.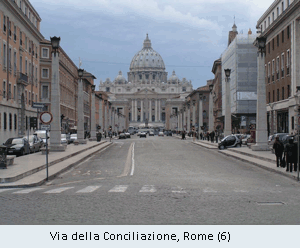 The Pope pledged to maintain perpetual neutrality in international relations, which would haunt the Vatican later.  Mussolini started building the grand Via della Conziliazione ("Reconciliation Avenue") leading to St Peter's Square.
As the 1930s progressed, the Church increasingly came into conflict with the Fascist regime, which became more atheist and tried to absorb the Church's youth groups.  In 1931 Pope Pius XI issued the encyclical Non abbiamo bisogno ("We have no need") denouncing "pagan worship of the state" and persecution of the Church.  
The Pope did however agree to Mussolini's request to support Franco against the Communists in Spain, which was not very surprising given the Communist attacks on the Church there described earlier.

Claim:  Pope Pius XI and Wladimir supported the rise of Fascism in Italy (Conor Cruise O'Brien, 13).
Reply:  There are so many allegations that they willingly supported Italian Fascism (6) as a bastion against Communism that, while I have seen no evidence of it myself, I am inclined to accept that this probably was the case.   They certainly hated Communism and negotiated the Lateran Pacts, which must have affected their thinking.  The Italian regime was considered relatively mild and the Polish government continued having good relations with it, as did many of our family. 
Claim:  This alleged support was because they were anti-Semitic.
Reply:  No.  Even if the Pope and Wladimir did support the rise of Fascism, it is highly unlikely that anti-Semitism was a reason because Mussolini did not pass any race laws until much later.  There were Jews in the Fascist Party and a Jewish Fascist paper La Nostra Bandiera.  After Hitler came to power in Germany, the Pope used his relationship with Mussolini to try to get him to moderate Hitler's anti-Semitic laws. 
1936: The Axis;  1938: Mussolini's Manifesto of Race
In 1936 Mussolini joined Hitler in his support for Franco in the Spanish Civil War and sent armed forces there.  In October 1936 Italy signed its historic treaty with Germany, known as the "Axis" after Mussolini said that the rest of Europe would rotate around the Rome-Berlin axis.

Mussolini did then start adopting Hitler's anti-Semitic race policies.  On 14th July 1938, nearly two years after the Axis treaty, he published the Manifesto of Race stripping Jews of Italian citizenship and other rights.
The Pope responded in an announcement to Belgian pilgrims:  "Mark well that…Abraham is our Patriarch and forefather.   Anti-Semitism is incompatible…it is a movement with which we Christians can have nothing to do…it is impossible for a Christian to take part in anti-Semitism…it is inadmissible…Spiritually we [Christians] are all Semites…". 
Even in his highly critical article on Pope Pius XI and Wladimir, O'Brien admits that the Pope publicly condemned the Italian government for its "disgraceful imitation" of Germany's racist laws and says that this "no doubt saved most of Italy's Jews" (12).
Claim:  Pope Pius XI, advised by Wladimir, supported Mussolini's anti-Semitic policies.
Reply:  No.  He opposed them.  Read the above.
Mussolini's anti-Semitic policies were still rather mild and Jews continued escaping from Germany into Italy at this time, as illustrated by the example of Wladimir helping a Jewish refugee mentioned below.  Ordinary Italians mostly disapproved of the race laws and Mussolini is alleged to have said they were stupid himself.  
Italy did not support Germany's invasion of Poland in September 1939.  In early 1940, before Italy joined the War on the German side, my mother, Maria Morawska, and her brother were given false Italian passports by the Italian Ambassador in Poland so they could escape the German occupation. They were not Jewish.  But there were also cases of Italy helping Jews escape from occupied Poland to Italy.  A known example is that of the Jewish lady Alicja Eber, who was arrested by the Gestapo and held in the notorious Warsaw prison Pawiak for helping other Jews. The Italian embassy got her and her Jewish husband the architect Edward Zachariasz Eber released and arranged their escape to Italy, where they survived the war hiding in Trieste and elsewhere, as recorded in a documentary film by Bożena Hockuba.  The Italians could not do this for everybody, but they were willing to help in a few individual cases even where those concerned were Jewish.
Jews were nevertheless in great danger in Italy, especially when the Holocaust got under way after the Germans occupied Italy in 1943, when they started being arrested and deported on a large scale. 
Claim:  The next Pope, Pius XII "never published anything that could have angered Hitler" (13).
Reply:  He did.  In 1943 L'Osservatore Romano, the daily newspaper of the Vatican, headed by Pope Pius XII, protested and called these deportations "unreasonable, unchristian and inhuman" (16, p63).  See also sections on 1937 and 1939 Encyclicals, Vatican Radio and Pope Pius XII below.   But all this was certainly much too little.
The German occupation did not last that long and mercifully 80% of Italian Jews survived the war.
1930s: Nazi Germany

In Germany, Hitler spent much of the 1920s, some of it in prison, building his Fascist movement.  In 1926 he published his manifesto, his book Mein Kampf ("My Fight"), in which he vowed to end the twin evils he saw in the world:  Marxism and Jewry.  
After the 1930 elections the Nazis became the second largest political party.  Hitler was appointed Chancellor on 30th January 1933, opened the first concentration camp outside Berlin on 12th March, started a nationwide boycott of Jewish shops on 1st April, opened a second concentration camp at Dachau in June, declared the Nazis the only political party in July, and quit the League of Nations on 14th October.  The SS shot the revered war veteran and previous Chancellor, General Schleicher, in July 1934, a fate shared by other leading politicians if they did not cooperate or die in concentration camps.  Hitler was formally declared Führer ("Leader") in August 1934.  Nazi stormtroopers (whom Hitler officially disowned) initially focussed on their first enemy, the Communists, who were beaten up or shot in riots throughout the country.  Then they increasingly focussed on their second enemy: the Jews.

The Church had in the meanwhile been conducting lengthy negotiations with Germany, resulting in a Concordat treaty in June 1933. 
Claim:  This meant the Church supported Nazism (or Einstein: since when can a treaty be signed between Christ and Satan at the same time?)
Reply:  No.  Church policy was to negotiate Concordats with quite a few countries at that time, including Italy and Poland.  Negotiation with another power – let's say Brexiteers negotiating the Brexit Withdrawal Agreement with the EU they are trying to destroy, or the USA's trade negotiations or the Church's new Concordat negotiations with China, does not mean support for that power.  The fact that in 1938 British Prime Minister Chamberlain signed the Munich Agreement for Germany to occupy part of Czechoslovakia is not usually used to argue that he supported Hitler then - although perhaps it should.  Meanwhile the Nazis were in fact attacking the Church:
The Concordat was almost immediately broken when in July the Nazis announced their sterilization law, began to dissolve the Catholic Youth League and increase the harassment and arrests of clergy, nuns and lay activists on trumped-up charges.  Two thousand Bavarian People's Party officials were rounded up and the Catholic Centre Party was abolished.
March 1937: Papal Encyclical
On 14th March 1937, Palm Sunday, as Nazi anti-Semitic policies were becoming ever clearer, the Encyclical Mit Brennender Sorge ("With Burning Anxiety") was read in every Catholic Church in Germany.   In it Pius XI denounced "the idolatrous cult which replaced belief in the true God with a national religion and the myth of race and blood".  "This perverted ideology" contrasted with the teaching of the Church "in which there was a home for all peoples and nations".  It attacked Hitler by implication as a "prophet of nothingness".  It was drafted by a committee including German Cardinals and the future Pope Pius XII (6,11). 
This Encyclical had a huge impact throughout the world and in Germany itself, amazed that 300,000 copies had been secretly smuggled into the country.
Hitler was furious.  Twelve Catholic printing presses were seized, 37 Franciscan friars were subject to a "morality trial", hundreds of people were sent to prison or concentration camps and Goebbels wrote that "after the war... the Church question ... has to be generally solved.
There is an insoluble opposition between the Christian and
heroic-German world view".
In July 1937, 800,000 people protested against "National-Socialism" by taking part in the Aachener pilgrimage organised by the Church despite obstruction by the Nazi authorities.  Security agents took down the names of identified participants for later harrassment.  Today a million people can demonstrate against Brexit, which does not deter the UK government, but it does mean many had the bravery to stand up against it.
November 1938: Kristallnacht
On 12th March 1938, Germany sent troops into Austria unopposed and announced the Anschluss ("Union") with Germany.  Himmler promptly established a fifth concentration camp, Mauthausen, this time in Austria.

On 28th October 1938, the Nazi German authorities delivered deportation papers to 18,000 Polish Jews.  They were taken to the Polish border.  Poland, shamefully, would not let them in, and many ended up as refugees camping in no-man's land between Germany and Poland until a deal between the two countries was agreed several months later.

On 7th November 1938, a Polish Jew, Herschel Grynszpan, enraged by Germany's deportation of Polish Jews, including his parents, shot Ernst vom Rath, an official at the German Embassy in Paris.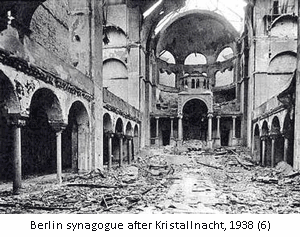 On 9th November 1938, hours after vom Rath died of his wounds, Hitler used this as a pretext to unleash the Kristallnacht progrom (night of broken Jewish shop window glass and crystal thrown around the streets, or the night of "crystallising" or cleansing the German nation) throughout Germany.  The SS leader Reinhard Heydrich proudly reported 7,500 Jewish businesses destroyed, 267 synagogues burned and 91 Jews killed (11).  30,000 Jewish men were arrested and put in concentration camps (6). 
The carnage was reported by foreign journalists on the spot and sent shockwaves round the world.  Pius XI, backed by several Cardinals and other Church leaders, joined Western governments in condemning the pogrom.  
In response, the Nazis organised mass demonstrations against Catholics and Jews, and the Bavarian governor declared: "Every utterance the Pope makes in Rome is an incitement of the Jews throughout the world to agitate against Germany".  On 21st November, in an address to the world's Catholics, the Pope rejected the Nazi claim of racial superiority, and insisted instead that there was only a single human race. The Nazi Minister of Labour declared: "No compassion will be tolerated for the Jews. We deny the Pope's statement that there is but one human race. The Jews are parasites." (6)
Claim:  The Pope, advised by Wladimir, supported Nazi anti-Semitic policies.
Reply:  No. The Pope published a strongly worded Encyclical in 1937 and condemned the Kristallnacht pogrom in 1938.
1939: The Unpublished Encyclical and Pope Pius XI's death
In 1938 Pope Pius XI tried to prepare another Encyclical denouncing racism, anti-Semitism, and violent German nationalism, Humani Generis Unitas ("The Unity of the Human Race").   This was drafted by John LaFarge and two other Jesuits and was delivered to their Superior General, Wladimir Ledochowski in the summer.  Although it was supposed to counter anti-Semitism it included derogatory remarks, e.g. that Jews were "blinded by a vision of material domination and gain" and were responsible for Christ's death - "destroyers of their own nation"  (6).
On 14th August 1938, as part of the intensification of Nazi attacks on the Church, the Jesuits in Berlin received a letter from the German authorities "…the schools conducted by you cannot be recognised any more….you will no longer receive new students".  This was followed by another letter to the Jesuits in October announcing that "all confessional schools must close by March 1940".  So German youth would no longer be influenced by the Jesuits or other religious groups (11).
In November 1938 the Pope condemned the Kristallnacht progrom, provoking further Nazi attacks against Catholics and Jews as mentioned earlier.

Wladimir only delivered the draft Encyclical to the Pope on 21st January 1939 but advised caution as he considered some of the language excessive.  The Pope wanted to present it to a meeting of bishops on 11th February and then publish it, but he died the day before the meeting, on 10th February, with the draft encyclical allegedly still on his desk.  There was an unproven theory that, because his doctor was the father of Mussolini's mistress, Pope Pius XI was actually murdered (6), possibly even on the orders of Hitler, in which case Pope Pius XI was a martyr (12).

Mussolini laughed and said "At last, that stubborn old man is dead".  A French Communist newspaper reported "..the Pope, of all people, had become the champion of freedom" and a British paper "Pius…became one of the outstanding figures of the world….he died at his post" (11).
Claim:  Wladimir delayed the Encyclical because he supported Nazism.
Reply:  The proposition that the Jesuit General was supporting Nazis who were attacking the Church and closing Jesuit schools in Germany sounds very unlikely.  It is conceivable he was hoping to persuade them to stop the closures.   The Catholic hierarchy in Germany had helped draft the March 1937 Encyclical but, fearing greater Nazi persecution of the Church itself, may have been reluctant to provoke Hitler even more and/or thought the timing was wrong for the next one.  The draft's wording about Jews was highly prejudiced and could have been exploited by the Nazis.
October 1939: The Published Encyclical
The next Pope, Pius XII, chose not to publish his predecessor's draft Encyclical.  Instead, on 12th October 1939, he published an Encyclical, Summi Pontificatus ("On the Pontificate"), which had a similar title, On the Unity of Human Society, and used many similar arguments, while avoiding most of the negative comments about Jews in the earlier draft.  It was opposed to every form of racial hostility.  "There are no real racial differences: the human race forms a unity" because "one God made all nations to inhabit the earth" (6).
Comment:  If it is argued that Wladimir as a close adviser to the two Popes was partially responsible for the non-publication of the 1938 Encyclical, then he should be partially credited for the publication of the 1937 Encyclical and the 1939 Encyclical.
Claim:  Pope Pius XII "never published anything that could have angered Hitler" (13).
Reply:  He did.  Before he became Pope, Pius XII was a co-author of the March 1937 Encyclical and now he published the October 1939 encyclical.   But this was certainly much too little.  See also sections on Vatican Radio and Pope Pius XII below.



Did the delay in Publication contribute to the Holocaust?
Hitler declared Jews one of his two prime enemies in Mein Kampf, published in 1926.  He embarked on anti-Semitic policies (and milder anti-Catholic policies) almost immediately after coming to power in 1933.  He built a huge fleet of submarines to attack the West over several years and only decided to attack Poland first in April 1939.  It took a year after Hitler invaded Poland before he started building ghettoes there in October 1940.  SS troops brutally killed thousands of Jews when invading Russia from June 1941 onwards, but the "Final Solution" decision was only formally taken at the Wannsee Conference near Berlin in January 1942.
Hitler intended to "annihilate Christianity" according to Hermann Rauschning (12).  He ignored Pope Pius XI's Encyclical in March 1937, his condemnation of the Kristallnacht pogrom in November 1938, and Pope Pius XII's Encyclical in October 1939.  It seems to me highly unlikely that another Encyclical against racism published in 1938 or earlier in 1939 would have made any real difference to the Holocaust two years later.
War, priests and Jesuits
On 30th September 1938, in Munich, the UK Prime Minister, Neville Chamberlain, signed an Agreement with the leaders of Germany, Italy and France for Germany to occupy the Sudetenland region of Czechoslovakia, which had been essential to any Czech defence against Germany.  He famously announced outside Downing Street "I believe it is peace for our time".  
It is not usually argued that because he signed this agreement with Nazi Germany Chamberlain was supporting Hitler (although perhaps it should).
On 15th March 1939 the Nazis invaded the rest of Czechoslovakia and soon there were 437 Catholic priests among the thousands sent to concentration camps (11).

On 1st September 1939, the Nazis invaded the Western half of Poland.  Just over two weeks later Soviet Russia invaded the Eastern half.  
The day after Warsaw was taken 330 priests were arrested and the clergy were persecuted violently.  They were entirely at the mercy of the Gestapo.  Over a dozen Jesuits were killed and two, Tadeusz Podbienski and Franciszek Wawrzyniak, died in prison in 1939 alone. (11)
"Many Jesuits would remain silent, but several would denounce Nazi atrocities from the pulpits, risking deportation and death.  Many would remain passive, but several would be sheltering and saving Jews from extermination, knowing that, if caught, both they and those they were protecting would die."  Many Jesuits carried on as usual in the open, but several went underground to join the Resistance (11).
In September 1946 the French newspaper Le Monde reported that during the War at least 44 Jesuits were killed in Poland, 20 burnt alive by the SS, 7 shot in Germany, 2 hung in Java, 2 executed in Italy, and one stabbed to death in the Philippines.  A German Jesuit was executed for involvement in von Stauffenberg's attempted assassination of Hitler in 1944.  Le Monde said its list was incomplete (14).
Comment:  Not a story of cosy collaboration between Jesuits and Fascist Germany, Italy and Japan.

1939 - 1942: Wladimir against the Nazis
After war broke out, Wladimir's loyalties did not lie with his German education or with Austria, the country of his birth and Germany's ally.  Instead, already weak at 73, he fought them wherever he could, literally until he died, "earning the bitter enmity of the Nazis" according to the NY Times (4).  
With the prospect of a breakdown of international communications, Wladimir sent Regional Assistants to the various parts of the world where Jesuits were working, with close to full powers to make decisions locally. 
Wladimir himself remained in Rome, which - it should not be forgotten - was the capital of Fascist Italy, the most important ally of Nazi Germany after entering the War in June 1940.  Here he as well as others could have been arrested and sent to concentration camp or worse at any moment. Here he conducted his campaign against Nazi Germany both openly, through Vatican Radio, and secretly, using intelligence agents.  
He also supported his order's efforts to help Jews.  Władysław Bartoszewski mentions in his book The Blood Shed Unites Us (26, pp83-84) correspondence between Wladimir and the Polish Ambassador to the Vatican, who was actively lobbying the Pope to help Jews, concerning help the Jesuits were giving to Jews in Romania.
An obituary in the Swiss newspaper Die Weltwoche (The Weekly World) in December 1942 said in coded German that "when the battle between freedom and slavery throughout the world reached its peak, Wladimir chose unhesitatingly to stand on the side of freedom" (21).
Vatican Radio
Vatican Radio, run by the Jesuit Filippo Soccorsi, was largely under the control of Wladimir (16, p62).  Despite protests and threats from Germany and Italy (4) it repeatedly broadcast reports of Nazi atrocities against Jews (16, p63) as well as against priests and the public in occupied countries, including anti-Semitism in Vichy France.  A member of Wladimir's Jesuit staff was the speaker (4).
The Radio included broadcasts by Cardinal Hlond of Poland, then in exile in Rome, and comparisons with the other half of Poland occupied by Soviet Russia.  "The Germans use the same methods, perhaps even worse than those used by the Soviets.  Even more violent and persistent has been the assault upon elementary justice and decency in that part of Poland which has fallen to German administration." (16, p62)
The Germans protested that these broadcasts were biased in favour of the Allies and were anti-German, which most readers would say they should, of course, have been.  However, Pope Pius XI had pledged "perpetual neutrality in international relations" in exchange for Italy's recognition of the Vatican's independent statehood under the Concordat in 1926.
After a while, Pope Pius XII ordered that all broadcasts had to be approved in advance by the Vatican Secretary of State (equivalent to Foreign Minister).  In the end, in April 1941, the German and Italian governments demanded that Vatican Radio, based in Italy, an Axis country, should simply stop these "biased" broadcasts.
We do not know how serious the threat to Vatican independence was, but we do know that Pope Pius XII eventually gave in and ordered the radio not to mention Germany in future (16, p62).  This must have been heartbreaking for Wladimir.  By now he was weak and old.  He died the following year.
Comment:  Don't blame Wladimir.
Running an intelligence network
There is evidence that Wladimir ran a network of agents smuggling important military and other information between occupied Europe and allied headquarters in London.
An internal German Intelligence report to Reichsmarshal Hermann Göring (or Goering), dated July 1941, before Japan joined the War, was found in Kew archives and passed to me by my good friend, Franek Rozwadowski.  
It complains inter alia that Wladimir was using agents among the Japanese "to carry on illegal correspondence with the Polish resistance movement in Wilno by means of the Japanese diplomatic courier from the Rome Embassy to the Berlin Embassy".
"Ledochowski has received and transmitted several times important military information on Germany....a large part of the illegal courier-mail...will certainly be transmitted to Sikorski's emigre Government in London".  According to the Japanese, one report from Wilno to Ledochowski "was intercepted and dealt with under the German persecution of Catholic priests in Russia" (17).   
The NY Times was right that Wladimir had "earned the bitter enmity of the Nazis" (4).
Helping Jewish refugees in Rome
As mentioned earlier, whereas the Holocaust in Italy was on a much smaller scale than elsewhere, it did eventually get under way and Jews were under threat.  Several Italian Jews were hidden by Wladimir's Jesuits in the German College in Rome and later smuggled into Switzerland (11).
Feeling very depressed by the allegations against Wladimir, I was most touched when contacted by the son of a Jewish refugee from Germany who survived the War.

The Jewish refugee, Abraham, had lived in Berlin and was among  the 18,000 Polish Jews who received the 28th October 1938 expulsion order, which was followed by the notorious Kristallnacht pogrom.  Abraham and his father were put on trains and taken to the Polish border and driven across the frontier, but Poland was shamefully not admitting Jews back and most of them ended  up stranded in a makeshift refugee camp in no-man's land between the borders. 

A few months later the Polish authorities agreed to admit the Polish Jews and they were allowed to go home to collect their belongings.  The rest of the family then continued to Poland,  but they decided to try to send their son Abraham to a school in England. 

The British consulate then refused to give Abraham a visa (not unusual for a country that was also stopping Jews from escaping to Palestine and still has an aggressive attitude to refugees today, illustrated by the propaganda surrounding the Brexit referendum).   As Italy did not require visas, Abraham visited the Italian tourist office in Berlin and bought a ticket to go there "on holiday".   
He then spent a year at school in Rome, funded by relatives in South Africa.  

In early June 1940, when it was rumoured that Italy would shortly join the War on the German side and make things worse for Jews in Italy, which it then did, Abraham decided to escape to nearby neutral Turkey, for which he needed a Polish endorsement on his German (or possibly Italian) ID document.  So he went to the Polish Consulate in Rome, which rudely refused to help him.  (Poland was at this time under brutal German occupation and the Polish Government was in Exile in France.  We do not know what the officials of the Polish Consulate in Rome thought when visited by someone who spoke perfect German and no Polish.)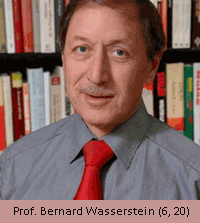 Abraham's flatmate was an artist restoring Wladimir Ledochowski's office in the General Curia (Jesuit headquarters).  He offered to take Abraham to the Superior General, who was rumoured to be sympathetic, to ask for help and advice.  The General spoke to him in Polish, to which Abraham answered in German.  So the General asked him in German, what was his connection with Poland then?  Abraham replied that his father was born in a place no-one had heard of: "Krakowiec".  The Superior General realised this must be genuine.  He knew about the town because it was the country home of his brother, General Ignacy's, mother-in-law, and the future home of his nephew Wladimir, but he also knew that the town was very little known. 


The Superior General just nodded and told his assistant to go with Abraham to the Polish Consulate. 
This time the Consulate treated him "as if he himself were a prince of the Church".  He was given a stamp, went to Turkey and survived the War.  In Istanbul, at the request of the Zionist Organisation representative Chaim Barlas, the British Consulate issued him a Palestinian immigration certificate.
Abraham Wasserstein's Wikipedia entry kindly confirms the Catholic Church helped him escape.  He became an eminent classics professor at Glasgow, Leicester and the Hebrew University of Jerusalem.  One of his major works was the book on the Septuagint, the most influential Greek version of the beginning of the Hebrew Bible (18).  His son, Bernard Wasserstein, became an eminent professor of history at Glasgow, Leicester, Oxford and Chicago and is the author of several fascinating books, including On the Eve, on the Jews of Europe before the War, and Vanishing Diaspora, on the Jews in Europe since the War (19).  He now lives in the Netherlands and could tell me the tale.

Abraham's relatives in South Africa were the Laubs.  As part of a friendship between our families that continues until today, he met my father, Wladimir, when visiting them in Johannesburg many years later (20).
Not a Saint
Mieczysław (1, p109) reports that Pope John Paul II once asked a later Superior General of the Jesuits why the Jesuits are not trying to get his well known predecessor, Wladimir, beatified, to which the Superior General replied "You can be either a saint or a good general, but not both". 

The orders founded by Blessed Maria Teresa and Saint Urszula had no saints to start with.  Many Jesuits, including Ignatius of Loyola, have already been recognised as saints, many of them martyrs, and Wladimir was not a martyr.  Perhaps the Jesuits just haven't tried to find miracles or perhaps there just weren't any.  Two siblings having been greatly honoured in this way, perhaps a third would be too much.  Or perhaps the controversy over Wladimir's attitude to Fascism is a reason.  Mieczysław suggested yet another reason: Wladimir was a strict disciplinarian, and so was respected but, crucially, not loved by his juniors.
In any event, all accounts agree that Wladimir was a humble person who would not seek such great honours.  And millions of us are not saints either. 
Was Wladimir anti-Semitic anyway?
Wladimir was brought up among the elite of the feudal Austrian Empire, which Jews considered to have a rather paternalistic attitude to Jews.  Some of them even thought of Emperor Francis Joseph as a kindly grandfather figure.  I have no evidence of Wladimir's own opinions on Jews, but I accept it is possible he had the typical prejudices of his social background, education and Church.  I have heard them myself, not from Wladimir or discussions about him, but from other people.  For example, I find it quite possible that Polish Cardinal Hlond's comments on Jews were as quoted by Wikipedia.  The pre-war priest, Father Maximilian Kolbe, wrote that "Judaism is like a cancer eating into the body of our nation" and also that "[I should not] be taken to mean that even among Jews one cannot find good people".
Jews, at the receiving end of such comments, find them deeply offensive.  I apologise deeply and unambiguously on Wladimir's behalf if he had these prejudices, and on behalf of anyone connected with me or him who has or had the same.
The vast majority of people who had anti-Semitic prejudices did not wish to harm Jews, were opposed to the Holocaust and were certainly not responsible for it.  Father Maximilian Kolbe then sheltered 2,000 Jews in his monastery under German occupation and died in Auschwitz himself.  I find it very hard to believe that Wladimir collaborated with Nazis or Fascists to harm Jews in any way.  Rather the opposite: he seems to have been sympathetic and helped.  However if any evidence does emerge in the future that he tried to harm Jews I shall immediately apologise for that too.
Further thoughts on anti-Semitism are at the end of this article.
Wladimir's close family
Wladimir's younger brother and my grandfather, retired General Ignacy, despite also being born and educated at the same presitigious Theresianum school in Austria, joined the Polish Resistance to the Nazi occupation.  For this he was arrested and died in Dora-Mittelbau concentration camp, aged nearly 74.
Wladimir's nephew and namesake, my father Wladimir, was a courier in the Polish Resistance delivering secret correspondence as well as news of Nazi atrocities to the West.  He was wounded and several times nearly killed fighting the Nazis from the first day of the War to the last.  He praised Jewish soldiers in the Polish Army and Jewish homes where he hid in the Resistance, complained endlessly about anti-Semitism in Poland, South Africa and elsewhere, was teased for it, and was sometimes considered by South Africans to be Jewish himself.  Eccentric perhaps, but I don't think anyone was mad enough to call him anti-Semitic.

Pope Pius XII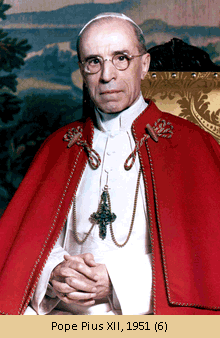 Pope Pius XII was far more controversial than his predecessor Pius XI.  He was Nuncio to Germany from 1917 to 1922, long before he became Pope.  
He issued the October 1939 Encyclical mentioned earlier.  He instructed the Church to help Jews and other victims of Nazism where possible, and 4,000 were hidden in various monasteries and convents throughout Italy.  (Overall it is estimated that 80% of Italian Jews survived the War.)
However, he became ever more vague in his public statements and, as mentioned earlier, he overruled Wladimir and ordered Vatican Radio to stop mentioning Germany in June 1941 (16, p62). 
My parents and other Poles of the wartime generation considered the Pope's apparent silence quite cowardly and were furious.  In August 1941, Cardinal Hlond told the Vatican Secretary of State that the Polish people believed Pope Pius XII had abandoned them.  
When Germans started deporting Jews from Rome to Auschwitz and other death camps, there were some protests on Vatican Radio, but Pius XII himself maintained a "deafening" silence and there were no more Encyclicals, nothing said during Christmas messages in 1942 and 1943, etc.  Bartoszewski lists many occasions when the Polish Ambassador, Kazimierz Papée, officially lobbied the Vatican to help Jews and it seems the Vatican did respond regarding for example the safety of Jews in Italy and Hungary (26, pp83-84).  But this was all behind the scenes.
The controversy over Pope Pius XII's actions or inactions during the Second World War continues.  Critics and defenders are hoping that more evidence from Vatican archives being released by the current Pope Francis will support their respective cases.  
I cannot hope to judge Pope Pius XII.  But in his defence I would like to point out that after the Second World War, the Chief Rabbi of Rome Israel Zolli, his successor Rabbit Elio Toaf and the Israeli Prime Minister Golda Meir, all thanked him for saving many Jewish lives during the War.  The Israeli Symphony Orchestra gave the first concert of its European tour in the Vatican in honour of Pope Pius XII, and there were many other expressions of thanks.
It should be borne in mind that had Pope Pius XII continued openly to defy Hitler and Mussolini, and Mussolini had revoked the Concordat signed only a dozen years earlier, and Fascist security forces had taken over the Vatican and other Church territory, this would not only have meant death for the Jews but also for the Catholics, priests and others, hiding them there.  This reminds me of the rather humbler, surreal story of my mother's family, told in my film Uncles and Others.  They entertained Nazi officials to cocktails in their country house in occupied Poland, while hiding in the attic and in the forest - Jews, who survived and thanked them after the War.





Churchill and Roosevelt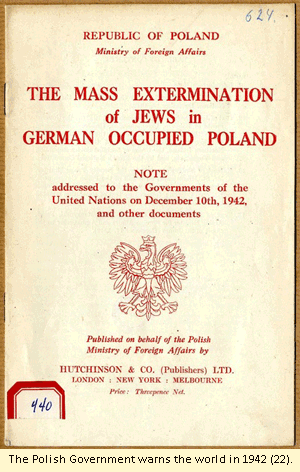 I completely agree with Conor Cruise O'Brien "Let us never be silent again".  It is, however, rather irritating that the accusation of silence is levelled at people like the two Popes and Wladimir, who were citizens of Fascist Italy and Austria and were Mussolini's hostages in his capital city, Rome, while leaving out Churchill and Roosevelt.  For example, in June 1939, in the sixth year of Roosevelt's term as President of the USA, when Nazi oppression of Jews in Germany was well under way, a shipload of Jewish refugees was turned back from Miami as well as Canada and had to return to Europe, a death sentence for most.  There were many other cases of allied countries such as the UK turning Jewish refugees back and surprisingly few cases of "fascist" Italy turning them back.  Even at the height of the Holocaust, the British authorities in Palestine frequently turned Jews back.
Later on, Churchill and Roosevelt, leaders of the "United Nations", as the Allies were officially known after 1st January, 1942, with divisions, bombers, money, radios and newspapers at their disposal, did practically nothing from the relative comfort and safety of London and Washington when informed in detail about the Holocaust by the Polish Government-in-Exile and its agents, witnesses such as Pilecki and Karski (22).  They kept it secret from their own citizens, so the British and US public only found out about the Holocaust when the survivors in death camps were "liberated" in 1945.  
Of course, the Catholic Church was too slow to respond to Nazism (in England it still hasn't asked its priests to read Pope Francis' message on migrants and refugees).  And when the Church did respond to Nazism, it did not do enough.  
Of course, one can debate how many Poles helped Jews during the War, or were passive, or betrayed them.  This was in an atmosphere of terror, atrocities and threats of instant death.  The real discussion should be about the Western Governments which were powerful and safe, but deliberately and disgracefully remained silent, did nothing at all and never apologised.
My thoughts on Anti-Semitism
There is anti-Semitism everywhere in the "white" and post-colonial world. 

To my astonishment, when walking along a Cape Town beach one day, a coloured (South African term for mixed-race) woman accosted me and shouted "You bloody Jew!".  I was not even wearing a label or anything else to declare I am a Jew, which I am not.  A day or two after the 2016 Brexit referendum, someone using the pseudonym (false name) of a fan of a SS war criminal, Arnold Topf, wrote under the YouTube site of my film on the Polish school in Putney-Wimbledon, London: "We all know you Poles interbred with Jews and you should all now f… off!".   Some of the Polish girls looking at the website were in tears, while some boys were fighting back.  I changed the YouTube settings to stop further comments and reported this as a hate crime to the police here in London.  The Pole working at the police station who took my complaint was moved shortly afterwards and I never heard from them again.
When they think no Jews are present, people in England or South Africa or America can make derogatory remarks.  For example, an Englishman who refuses to pay his share of the costs of our private estate in Surrey is considered despicable, but a Jew who refuses to pay his share is considered a typical Jew.  People in the UK can suddenly decide to tell a Jewish joke, which will often be about cleverness, small mindedness or greed. 
In Poland before the War, Jewish jokes were mostly about poverty in small Jewish towns or resentment of the rich Jewish business class.  There is a famous story about how Krystyna Skarbek, the future famous British agent, did not want her aristocratic friends to meet her mother as they would then realise she was Jewish.  While many Jews were assimilated and made an enormous contribution to Polish culture as poets, writers, musicians, actors, journalists and scientists, many were determined to preserve themselves as an ethnic minority, wearing black robes, beards, sideburns, speaking a different language, Yiddish, and living in closed communities.  Many had only the most rudimentary Polish.  But Poles and Moslem Asians, for example, feel perfectly entitled to maintain their ethnic traditions in, e.g., the UK today.  Ethnic minorities run the risk of generating resentment everywhere.  Especially if, like many Jews, they are driven to succeed in whichever field they choose, and/or, like in Poland, they represented 10% of the population.  Most were as poor as the peasants, but according to an internal US report (24) they represented around half the business and professional class.  They were very vulnerable to the sort of xenophobic populist ranting that has re-emerged in Turkey, Poland, the UK and the US in recent years against minorities who are far less conspicuous or important.
There were so many Jews in Poland because at one time or another in the past they were banned under anti-Semitic laws in England, Spain and practically every other country in Europe.
In the 1930s, politicians in Poland and Italy as well as Germany and elsewhere exploited envy of the Jews in order to limit (or in Germany eventually eliminate) their rights to run businesses, and to impose quotas on e.g. the numbers of university places they could get.  In Poland this policy was called numerus clausus (a fixed number).  This was easier the more obvious the ethnic differences.  The 1938 US report (24) stated that anti-Semitism was declining in Poland, Rumania and Hungary, while it was rising in France, Belgium and in particular Germany, where there was "systematic brutality" (24).

It seems to me quite possible that the Austrian aristocracy attending the elite Theresianum high school in Vienna, which Wladimir and his younger brother General Ignacy attended, had at the very least the same prejudices as elites elsewhere.  Karl Lueger, Mayor of Vienna from 1897 to 1910 was virulently anti-Semitic and is thought to have inspired Hitler, who lived there at the time.  Austria largely welcomed absorption by Germany in the Anschluss in 1938, largely collaborated in the Holocaust and it is estimated that only 7,000 of its 200,000 Jews survived the war (6).  Austrians today are known for shifting the blame on to Germany, and public apologies are rare, unlike the frequent ones by the German government.
The Polish Pope John Paul II is widely admired by Jews for having achieved far more in terms of transforming relations with them than any other figure in the history of the Catholic Church.  In 1986 he said to the Jewish people "You are our dearly beloved brothers, and in a certain way, it could be said that you are our elder brothers" and during his visit to Israel in 2000 he said "Asking your forgiveness we wish to commit ourselves to genuine brotherhood with the people of the Covenant" (6).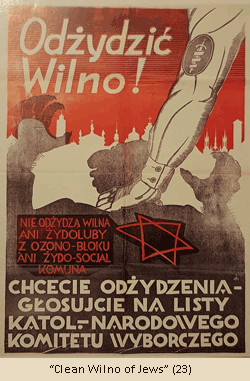 If you, the reader, accept the importance of Pope John Paul's declarations, you must also accept they must have been needed.  This was not the official position of the Catholic Church in earlier times.  Indeed many Jews remain convinced that in the past priests would rant against Jews in church, blaming them for the crucifixion of Christ.  Today we Catholics pray for our brothers the Jews but then, allegedly, we just prayed that they be forgiven for the crucifixion.  The ruling OZON political grouping in pre-war Poland was not anti-Semitic, but it was accused of being "Jew-loving" by at least one political party which certainly was extremely anti-Semitic and which included "Catholic" in its name (23).  So while many Jews accept that not all individual Catholics were necessarily "evil", they do think that the Catholic Church shared responsibility for perpetuating an atmosphere of prejudice against Jews.  They also felt this was part of a general and sometimes rather aggressive effort to convert Jews to Catholicism.  Some converted, after which they still suffered prejudice for a few generations.  But most did not want to convert.  In the words of some Jewish friends: "We just wanted to be left alone".  Your point of view depends a lot on whether you are at the delivering end or the receiving end.

Interestingly, in some of his paintings the Russian-Jewish-French artist Marc Chagall reverses the traditional Christian narrative by using the crucifixion of Christ as an allegory for the martyrdom of the Jews. (25)

This does not mean that most people who have or had these prejudices against Jews perpetrated or even supported the murder of millions of Jews under the Nazi Holocaust.  Poles rightly point out that their Government fought the Nazis and the Holocaust from the beginning.  People living in the Channel Islands would completely deny anti-Semitism even though their authorities collaborated with the German occupation and supplied lists of Jews to be deported.  Most Gentiles (non-Jews) in the UK (e.g. Corbyn's allies in the Labour Party), France, the USA (e.g. Trump supporters) or Poland would also vehemently deny that they are anti-Semitic.  What they mean is they are not and were not responsible for the Holocaust. 
Yet many were and are prejudiced against Jews.  This prejudice, or milder anti-Semitism if you wish to call it, contributed to an atmosphere in which a very violent version of anti-Semitism could flourish and lead to the Holocaust.

As mentioned earlier, the Polish Government lobbied the Pope and did everything it could to inform and warn the British and USA governments about the Holocaust.  In Istanbul the Polish Consul Wojciech Rychlewiczl gave Jewish refugees false official Polish documents confirming they were Christians to enable them to emigrate onwards to countries like Brazil, which had a quota admitting 10,000 Catholics from Poland. 
The position inside Poland was mixed and difficult to generalise.  There were thousands of cases of Jews being saved and also many cases of betrayal (defying orders from the Polish Government-in-exile) and also gangsterism and violence such as the Jedwabne massacre.  Among my own relatives, I am proud of those who, like the ones mentioned in my film Uncles & Others, hid and saved Jews throughout the war at the risk of their lives, and I am ashamed of the ones who betrayed Jews, terrified that otherwise the Gestapo would machinegun their families on the spot.
Poland today is different: far fewer Jews, far less anti-Semitism and no Jewish jokes (although Polish Jews themselves still have their great and unique sense of humour).  There is quite a lot of sympathy for Jews because they suffered from the Holocaust, or because they were dissidents, heroes of the fight against Communism, or because they are prominent in art, culture and the media rather than business.  Yet Jews are still hated by many nationalists, who envy their role as heroes of the fight against Communism, resent the fact that so many Jews were pro-Russian "Bolsheviks" or pro-Soviet Communists (some before becoming dissidents), or because their existence reminds patriotic Poles that, while they can be proud of Poles who helped Jews during the War, they should be ashamed of those who did not or who even betrayed them.  The current government is accused of being unable to accept shades of grey: that while defending Poland against being blackened by endless accusations of anti-Semitism, they try to whiten it by pretending there wasn't any - with the result that they end up being considered anti-Semitic themselves.
If you kill six million Jews and many millions of others, as Germany did, you apologise, as the German government frequently and rightly does.  Participation by Poles in the Holocaust, e.g. in Jedwabne, was relatively small and is the subject of great debate, but it was firmly opposed by the Polish Government (in contrast to the French Government in Vichy).  Polish President Kwaśniewski was nevertheless quite right to apologise.  If, like the Channel Islands authorities, you betray your Jews, or, like Western governments, you did nothing, you should apologise.  Anyone aware of any such apology, please let me know. 
In the words of a Jewish friend: "They hate us because we exist".
Jan Ledóchowski, 2020


Sources:

(1)  "… aby pozostał nasz ślad". ("...so we may leave a trace").  Mieczysław Ledóchowski.  Published by Towarzystwo Przyjaciół Ossolineum,  Wrocław 2002.  ISBN 83-7095-051-5, pp 104-9.
(2) Maria Teresa Ledóchowska, Dama Dworu – Matką Afryki.  Maria Teresa Ledóchowska, Lady-in-Waiting – Mother of Africa.  Fr. Roberto Laurita, translated into Polish by Joanna Zienko.  Editions du Signe, Strasbourg, France, 2012.  ISBN: 978-2-7468-2693-9.
(3) Życie dla innych.  Urszula Ledóchowska.  A life for others.  Józefa Ledóchowska, daughter of Wladimir's younger brother Ignacy.   Pallottinum, Poznań 1984.  ISBN 83-7014-002-5.
(4) New York Times obituary, 10th December 1942.
(5) Medal awarded to Wladimir Ledóchowski and left to our family.  Gilden bronze.  Diameter 39mm. 
Face: Right profile of the Emperor Francis Joseph I, in relief, wearing laurel wreath. 
Signature below image:  J. TAUTENHAYN (Viennese medal maker and sculptor, 1837-1911).
Round inscription: FRANCISCUS JOSEPHUS. I.D.G. AUSTRIAE IMPERATOR ET HUNGARIAE REX APOST  * 
Reverse:  Wreath in a shallow relief. 
Inscription: WLADIMIRO COMITI DE LEDOCHOWSKI SCHOLAE  VII LATINAE DISCIPULO 1883. 
Round inscription:  CAESARIO REGIAE ACADEMIAE THERESIANAE ALUMNIS OPTIME MERENTIBUS MDCCCLXXXIII  *
Also in the Warsaw Exhibition catalogue (7, p166).
(6) Wikipedia
(7) Catalogue of the Warsaw Historical Museum Exhibition on the Ledóchowski Family in November 2008.  Ed. Barbara Hensel-Moszczyńska.  Wydawnictwo Duszpasterstwa Rolników, Włocławek.  ISBN 978-83-88477-83-6.
(8) Photograph by G. Felici, Rome.  Underneath: W dowód głębokiej czci i przywiązania.  As a token of my deep respect and attachment.  Signed: Wł. Ledóchowski sj.  Generał Towarz. Jezus.  General of the Society of Jesus.
(9) Stamp on the back unclear.  Possibly H. Haeck sj or JI. Haecky.  Secretariatus Missionum SJ, Borgo S. Spirito 5, Roma 113.
(10) The Times of London obituary, 14th December 1942.
(11) Draft paper I obtained from a Jesuit some time after reading Conor Cruise O'Brien's articles in The Times (12) and the Evening Standard (13) in 1989.
(12) Could Pius XI have averted the Holocaust?  O'Brien.  The Times, 10th February 1989.
(13) Let us never be silent again.  O'Brien.  Evening Standard, 18th April 1989.
(14) Dominicains et Jesuites vont élire de nouveaux chefs.  Le Monde, 4th September 1946.
(15) Photograph by G. Felici, Rome.  Mother of Poland's Independence.  My Politics is Love.  Saint Urszula Ledóchowska.  Sister Małgorzata Krupecka USJK and Barbara Moszczyńska.  The Congregation of the Ursulines of the Agonising Heart of Jesus.  Warsaw 2018, p10.
(16) Pius XII and the Holocaust.  Understanding the Controversy.  José M. Sanchez.  The Catholic University of America Press.  Washington D.C. 2002.  ISBN 0-8132-1080-1.  p.62
(17) Extracts from American translation of an internal German intelligence report stored in the National Archives in Kew, London, found and passed to me by Franek Rozwadowski.  

(18) The Legend of the Septuagint: From Classical Antiquity to Today.  The fascinationg story of how the early sacred Hebrew scriptures were translated into Greek, and how they were adapted and changed by Jews, Christians, Muslims, pagans and others over the following centuries.  Professor Abraham Wasserstein 1921-95.  Cambridge University Press 2006.  ASIN/ISBN B001E0KPXC.
(19) On the Eve: The Jews of Europe before the Second World War. "Based on vast research, written with compassion and empathy, and enlivened by dry wit, paints a vivid and shocking picture of the European Jews in their final hour" (Amazon).  Professor Bernard Wasserstein.  Simon & Schuster reprint edition 2015.  ISBN10: 1416594284.
(20) Personal account by Professor Bernard Wasserstein, historian and author of several very interesting books.

(21) Ein Pole als Jesuitengeneral.  A Pole as General of the Jesuits.  Obituary in Die Weltwoche (Weekly World) Zürich, 18th December, 1942, five days after Wladimir's death.  See German original or Polish translation.  I do not have a translation into English.

(22) The Allies became officially known as the United Nations after the Declaration by United Nations was signed on 1st and 2nd January 1942.  This in turn inspired the United Nations Charter which founded the United Nations organisation and was signed by 50 countries on 26th June 1945.
Captain Witold Piliecki, a Catholic opposed to anti-Semitism, contrived to be caught by the Gestapo in the street and was imprisoned in Auschwitz.  He prepared a detailed intelligence account of the camp and the Holocaust, which the Polish Resistance then smuggled to the West, and was included in the report on The Mass Extermination of Jews sent by the Polish Government to the "United Nations" (Allied Governments).  Pilecki escaped from Auschwitz after two and a half years and was finally executed by the Communist regime in 1948.  Polish Chief Rabbi Michael Schudrich wrote "When God created the human being, He had in mind that we should all be like Captain Witold Pilecki, of blessed memory".  
Jan Karski was smuggled by the Resistance into the Warsaw Ghetto and (he thought) the Bełżec camp (which turned out to be a transit camp) in order to prepare a detailed eyewitness account of the atrocities, then smuggled out and sent to the West to give his report to Churchill and Roosevelt.  It was hoped that as a Catholic he would be considered objective and taken seriously.  Since the Allies were keeping back news of the Holocaust, no-one knew about it and so hardly anyone believed him (my mother had the same experience in England).  The Jewish Supreme Court Justice Frankfurter said "I am not saying you are a liar, just that I don't believe you".  Roosevelt, who was of course perfectly aware of the Holocaust from earlier briefings by the Polish Government, but had been careful to keep it from the US public, asked a few questions, e.g. about horses, and when Karski finally asked, what answer should he take back to the Jewish and other leaders whose people are being exterminated, Roosevelt blew out a lot of cigar smoke and replied "Tell them we will win the War".
What the Poles did not know was that Churchill and Roosevelt had already effectively agreed to hand Poland over to the Soviet Union after they won anyway.
(23) This leaflet was distributed in Wilno, one of the biggest cities in pre-war Poland, by the "Catholic National" party.  Rough translation:  "Clean Wilno of Jews!  Niether the Jew-loving OZON political bloc nor the Jewish-Social Communists will clean Wilno of Jews.  Do you want Jews cleared out?  Vote for the Catholic National Party."  This is an example of how difficult it is to assess the degree of anti-Semitism in Poland before the war: the OZON political bloc, which did agree to the introduction of separate seating for Jewish university students in 1937, was accused of loving Jews by a minority "Catholic" party which clearly was very anti-Semitic.  In the UK today you have a far milder version of a similar phenomenon: the majority of people are not racist, anti-European or anti-Semitic, but there are many who clearly are one or all of these.
(24) Confidential memorandum on the Jewish Problem in Poland by Raymond L. Buell, President of the US Foreign Policy Association, dated 8th July 1938 and circulated inter alia to US Secretary of State Cordell Hull.  Published by Politics Web South Africa on 12th November 2019.
(25) Chagall's painting of the Sacrifice of Isaac is displayed in the Chagall Museum, Nice.  In the foreground a yellow Isaac lies on his back accepting his fate.  Over him hovers a red Abraham, knife in hand, about to kill him.  Abraham is looking up at a blue angel, supervised by a white angel in the top left hand corner, telling him to stop, because he has proved himself to God and Isaac need be sacrificed no longer.  On the left hand side Isaac's mother watches in anguish and a lamb waits obediently under a tree to be sacrificed instead.  On the top right, we see a Christ-like figure carrying a cross and being chased in a progrom in Chagall's native Russia.  The Museum explains this is an allegory for the suffering of Jews to come - not just the crucifixion but also in the more distant future, including the Holocaust.  (The truth of course is that while some Jews betrayed Christ, others supported him, and he was actually crucified by the Romans.)
(26) The Blood Shed Unites Us.  Władysław Bartoszewski.  Interpress Publishers, Warsaw 1970.