General Ignacy II Ledóchowski 1871 - 1945

Ignacy Ledóchowski was born, educated and trained as a military officer in Austria.  After Poland regained independence in 1818, he transferred to the Polish army and was highly decorated for fighting Russian invasion in the 1920 War.  During the Second World War, he joined the Polish Resistance, was arrested by the Gestapo, rejected efforts by his former Austrian colleagues to save him, and died in Dora-Mittelbau concentration camp on 6th March, 1945.
**********
Writing about Ignacy, I wondered whether to prepare an "official biography", or to focus on personal characteristics and foibles as passed down to me by my father, his three adoring sisters and his cousin Mieczysław Ledóchowski, who wrote about him in his book (1).  I decided to do both, with the official part derived mainly from the Andrzej Suchcitz book (2), the Gazeta Wyborcza article (3) and the "Holy General" Polen und Wir article (4) on the Polish and German pages on Ignacy in this website.  Another important source, which I only obtained in 2012, are the memoirs of his wife Paulina (7).


The Partitions of Poland

Following the Napoleonic Wars Poland remained partitioned between the Russian, Austrian and Prussian/German Empires.  Ignacy's grandfather, the first General Ignacy Ledóchowski, had defended the fortress of Modlin during the "November Uprising" (Powstanie Listopadowe) against Russian invasion in 1831, surrendering only at the last possible moment when it became clear that Poland had been utterly defeated.  He narrowly avoided deportation to Siberia.  His son Antoni was so opposed to the Russian Partition that in 1843 he "emigrated" from the Russian Partition to the Austrian Partition, which was considered far more benign, and where he joined the Austrian Army.   The Austrian Empire was also the only Roman Catholic partitioning power.  It should be borne in mind that at the beginning of the nineteenth century countries like "Germany" and "Italy" did not yet even exist.  Although Polish patriots were extremely upset by the loss of their country, this was still the era of multinational Empires as exemplified by the Russian Empire and the British Empire, where loyalty to the Emperor-King (or Queen Victoria), rather than to a nation-state such as Scotland or Slovenia, was considered normal.  It is sometimes forgotten that the Polish Commonwealth itself, a weak democracy rather than a dictatorship, had also been a multinational empire including separate languages and peoples such as Lithuanians, BelaRussians, Ukrainians, Germans and Yiddish-speaking Jews.  
After 1867 Galicia, the Austrian Partition, was given considerable autonomy and Poles were promoted to full citizens on a par with Austrians and Hungarians.  While Germanisation and Russification were still being enforced in the other two partitions, in Galicia Polish was the official language and a process of re-Polonisation was under way.  With important implications for the future, the Ruś or Ruthenians to the East were also strengthening their separate identity as future Ukrainians.


An Austrian Officer and a Pole

The first General Ignacy's second son Antoni first married the Austrian Countess Maria von Seilern, with whom he had three children, most of whose descendants are Austrian today.  After her death he married Countess Józefa von Salis-Zizers, a remarkable woman very devoted to her faith and bringing up her children in an age when some women just left this to nannies and governesses.  They lived in Loosdorf, Austria, for several years and had seven children including the future Blessed Maria-Teresa, Saint Urszula and General of the Jesuits Włodzimierz.  Their youngest child, Ignacy Kazimierz Maria Halka Ledóchowski (the future second General Ignacy), was born in Loosdorf, near Vienna, on 5th August, 1871.
The young Ignacy was sent to the Austrian military boarding school St. Pőlten at the age of 11.  Ignacy's father, supported by his second Austrian wife and Ignacy's mother, decided to return to his Polish roots.  They bought an estate in Galicia, at Lipnica Murowana, near Bochnia, South East of Kraków in 1883, when Ignacy was 12.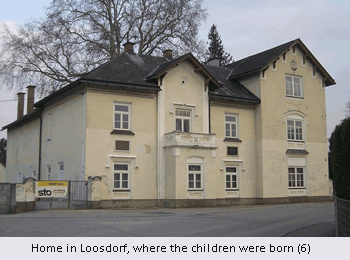 So Ignacy found himself spending his holidays in Poland under a lot of pressure to improve his Polish.  A key part in this move appears to have been played by his distant uncle Cardinal Ledóchowski, who gave financial support to the family after Ignacy's father lost a large amount of money in an Austrian banking crash, and encouraged Ignacy's sister Franciszka to marry Mieczysław Ledóchowski, her second cousin and the Cardinal's nephew, in 1892.  Their descendants include Mieczysław Ledóchowski, who lives in Vienna today, and his family.

In 1886 (aged 14) Ignacy went to the famous Weisskirchen military school and then in 1889 (aged 18) to the Vienna Military Academy.  On graduation he joined the Austro-Hungarian Artillery as a SubLieutenant.  In 1897-1899 he returned to the Academy to attend a special course for General Staff of military headquarters.  In 1896 he was promoted to Lieutenant, in 1902 to Captain and in 1913 to Major.  Highly disciplined, punctilious Victorianism, honour, loyalty and faith were drilled into his personality.  This was an era when an officer was expected to be brave to the point of foolhardiness, ready to put himself in the line of fire unflinchingly, giving an outstanding example to all subordinates.  British readers will recognise Nelson standing nonchalantly under rifle fire on the after-deck of the Victory, Wellington and his officers standing up and being bombarded by Napoleon's cannon balls, General Gordon standing in his white uniform offering his chest to native spears in the film Khartoum, and the officers' readiness to send waves of men to their mass murder by enemy machine gun fire in the Great War.

However a second powerful force became mixed into Ignacy's character by long postings to the Austro-Hungarian garrison in Kraków, where the family lived in a rented flat on ul. Kolejowa 13.  Ignacy imbibed the heady patriotism of a Poland sensing the decline of the partitioning Empires and getting ready consciously or subconsciously to fight for independence again. 
Ignacy's patriotism was reinforced by his marriage to Paulina Łubieńska, from another well-known Polish family, whom he met in 1902, when he was 30 and she was 21.  He called her various endearing nicknames and they remained deeply in love for the rest of their lives, to such an extent that their children felt a bit jealous and excluded.  There were four: Jadwiga ("Ciocia Jadzia"), Maria Teresa ("Ciocia Teresa", later Teresa Tyszkiewicz), Józefa ("Ciocia Inka"), and my father Wladimir (Włodzimierz or "Włodek"), all born in Kraków, who had a joyously happy childhood united in outraged rebellion against their strict parents.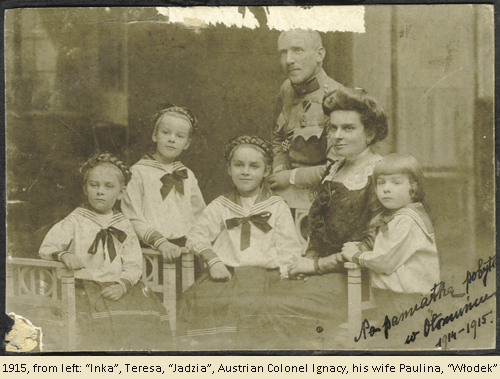 First World War

When the First World War broke out in 1914, Ignacy was immediately sent to fight the Russians in Galicia.  He commanded the 7th Horse Artillery Unit, then the 43rd and 126th Field Artillery Regiments, and in 1915 was promoted to Colonel.  Family legend has it that Ignacy's obstinate bravery led to considerable frustration among his junior officers.  Apparently he would walk around and stand above the trenches with binoculars to observe the enemy under a hail of fire, and just refused to duck in conditions which killed all those around him. Everyone was amazed that he was never hit.

In the Wołyń area Ignacy found himself alongside the First Brigade of Polish Legions (who inspired  the iconic marching song "My Pierwsza Brygada" - "We the First Brigade") under their leader Józef Piłsudski.  He had been leading the fight for Polish Independence in the Russian Partition since long before the First World War, and had already been arrested and exiled for it.  In exchange for joining the War against Russia, Piłsudski had reached an understanding that Austria would support Polish Independence.  On 19th October 1915 Ignacy wrote to his wife Paulina "The fighting here is ever more bitter.  The Muscovites are constantly attacking, we cannot sleep or rest….Yesterday the fighting was terrible, but thank God everything ended well and the Muscovites suffered great losses…..Today I went to congratulate Piłsudski.  The Poles were so brave they had earned the admiration of the Germans…The Legions took a Russian officer prisoner.  It turned out he was Polish and he broke into tears when he realised he had been fighting other Poles.."  The Legions were running a little cemetery and burying their dead with a sign that they died for Poland.  On 31st October Ignacy wrote home that for dinner he had invited Piłsudski, who had impressed everyone with his energy and his tales of the Legions.  On 17th November he wrote that he had been invited back to Piłsudski for dinner and had been very warmly and kindly received. 
At around this time Ignacy visited Leduchów in Wołyń and Our Lady's Column at the nearby Dominican Monastery at Podkamień, where he saw the famous portrait of Stanisław Ledóchowski.  Ignacy's daughter Inka wrote later that this period greatly strengthened his loyalty to Poland.

In April 1916 Ignacy's Regiment was transferred to the Italian front where he stayed until 24th January 1917.  He then fought on the Russian front until February 1918.  During the rest of 1918 he was back on the Italian front and promoted to full Colonel.  However things were going badly for the Austrian Empire.  The Italians pushed forward and the member countries of the future Yugoslavia declared independence in October.

On 24th October 1918 the Austro-Hungarian Army abandoned Kraków without a fight and it was taken over by a Polish Commission for the Liquidation of Galicia.   On 3rd November 1918 the Austro-Hungarian Empire capitulated.  Ignacy had been awarded the Austrian Order of Leopold and the Hungarian Order of the Iron Crown.


Fighting for Poland against Russia

Later in the First World War, Józef Piłsudski's Legions had been transferred by the Austro-Hungarians to the German Army, which had arrested and imprisoned Piłsudski for refusing to swear loyalty to the German Empire.  Now, as the Empire collapsed, German soldiers retreating from the Russian front through Poland were being attacked on the way by Poles.  The Germans negotiated the free passage of their troops in exchange for releasing Piłsudski on 10th November.  During the following few days the Polish Regency Council appointed Piłsudski Commander-in-Chief, asked him to form a government and finally appointed him Head of State, so Poland was effectively independent again after a gap of some 120 years.  Fighting continued in various regions including the Poznań area which rose against the Germans in December.

Ignacy initially insisted on waiting for formal release from his oath of loyalty to Austria which only came on 12th December, but eventually lost patience, arrived in Kraków on 24th November and joined the Polish Army on 26th November 1918.  His first task was to form the 1st Heavy Artillery Regiment from armaments left behind by the Austrians and he commanded it until 30th March 1919.  On 1st April 1919 he took command of the 3rd and then the 14th Artillery Brigade. Initially he was involved in fighting in Eastern Galicia, where there was a mixed population.  Many of the local people, formally known by the Poles as Ruthenians, now considered themselves Ukrainians and tried to form their own Ukrainian state.  The Poles took control of the whole area by July 1919. 

Poland then quickly found itself at war with Russia.  There was a failed attempt by the Ukrainians in the East to win independence from Russia.  The Polish Army got to Kiev to support them, but the Ukrainian effort was too weak and when the Russians counter-attacked the Ukrainians collapsed and the Poles had to retreat rapidly.

On 1st May 1920 Ignacy was promoted to Brigadier General and on 1st June 1920 he was transferred to the North-Eastern front, in the area known today as Lithuania and Belarus.  The Russians launched a vigorous attack into Poland, led by General Tuchaczewski, who on 4th July issued an order of the day: "…The army of the Red Banner and the army of the predatory [Polish] White Eagle face each other in mortal combat. Over the dead body of White Poland shines the road to worldwide conflagration..." (5, p145) (in Russian communist parlance of the time the "Reds" were the good guys and the "Whites" were the right wing conservatives, the bad guys).  The Russians rapidly approached Warsaw and the Poles started urgently building defence positions.


Ignacy was given temporary command of the 11th Infantry Division which was part of the first line of defence.  He was mentioned in despatches by Piłudski for a particularly valiant defence at the Battle of Auta.  He then moved to the Radzymin area, shown in the recent film "Battle of Warsaw 1920" and was given command of Artillery in the Zegrze area, from Rynja to Orzechowo, which he divided into two subsectors: Skrzeszew (7 batteries) and Zegrze (10 batteries).  His artillery played a key role in breaking the attack of two Russian divisions on 13th – 15th August.  The defeat of the Russians on 15th August itself, Św. Marii, St Mary's Day, has been known ever since as "Cud nad Wisłą", "the Miracle on the Vistula".  "Success has many fathers" and Marshal Piłsudski, who led a counterattack with fresh Polish forces from the South to cut off the Russians, claimed credit for victory.  Credit can also proudly be claimed by those who stopped the Russian attack in the first place.

Later in August Ignacy commanded the Heavy Artillery Group at the Battle of Niemen, supporting the attack of the 21st Infantry Division and the Volunteers' Division on Grodno and bombarding forts North of Kuźnica.  After capturing Grodno he stayed there with the Artillery and was appointed the town's temporary commander, charged with preparing it for defence.

The war ended in victory, and the Treaty of Riga was signed on 18th March, 1921.  
Poland was saved as an independent country and from communism until the German and Russian invasions 18 years later.  Lord d'Abernon, the British statesman and Ambassador to Berlin, described the Miracle on the Vistula as the Eighteenth Decisive Battle of World History, and wrote that had it been lost "the very existence of Western civilisation would have been imperilled… Bolshevism would have spread throughout Central Europe and might well have penetrated the whole continent" (5, p265).  Ignacy was awarded Poland's highest decoration Virtuti Militari (5th class) and twice awarded the Cross of Valour.  In 1923 the Marshal of France Ferdinand Foch awarded him the Cross of the Legion of Honour in Kraków Town Square.

Independent Poland

After the War Ignacy was promoted to General of Division and held the following positions: commander of the Army Training Centre in Kobryn (1921-22), head of artillery and armaments in the HQ of the 5th Regional Corps in Kraków (1922-25) and deputy head of the 4th Regional Corps in Łódź (1925-27).  However the Army was riven by politics as Piłudski held staff officers trained by the Partitioning powers, especially Austria, in deep contempt and started criticising them, including Ignacy, whom he dismissed as one of his "average" Generals.  Piłsudski was also getting increasingly frustrated with Polish democracy and eventually took power in a coup in May 1926.  It was entirely in character for Ignacy to stick to his oath of loyalty to the constitutional government and refuse to support the coup. 
On 1st February 1927 the Piłudski government decided to announce in the newspapers that Ignacy had been retired early rather than telling him first, a discourtesy which came as a great shock to the 56 year old General and rather embittered him.  Around 20 other Generals and senior commanders were retired that year.  Ignacy was lucky compared to some other ex-Austrian Generals, such as the Chief-of-Staff who prepared the battle plans for the Miracle on the Vistula, General Tadeusz Rozwadowski, who opposed Piłsudski's coup and was arrested, jailed and eventually died, allegedly poisoned in a secret way. 

When I visited Poland as a teenager and later as a university student my father's bubbly sisters would delight in telling me stories about their childhood rebellions against their authoritarian father, who used to complain that the Poles from the Russian partition were utterly chaotic and everything they touched became a "Polish omelette".  They claimed that when he was home from the Army he made them all make their beds in the mornings and stand to attention while he inspected their bedrooms, their "barracks". 
One day they got a letter from their little brother, my father, at his Jesuit boarding school, Chyrów (where incidentally he also rebelled against the strict discipline) reporting that he heard his father the old General would be coming to visit the school.  "Hannibal at the Gates!" he warned his classmates and they all rushed off to make their beds exceptionally tidy in case he visited the dormitories.  But then Dad inspected a parade of boy scouts and did not come into the school. 
If they were invited somewhere to dinner at 8pm, Ignacy would annoy everyone by getting the family (there were four children who must have taken some managing) to wait in the hall before leaving, then the driver was instructed to arrive at the destination 5 – 10 minutes early and drive around the block until precisely 3 minutes before the hour.  They would then get out and Ignacy would stand outside the front door of their hosts, watch in hand, until exactly 8pm.  Then, just as the trumpeteer at the top of Kraków St. Mary's church tower started playing its iconic tune, the Hejnał mariacki, to mark the hour, Ignacy would ring the front door bell loudly and clearly.  The children considered it an exciting sport to invent ways of infuriating their father by spoiling or delaying the ritual.

When they grew up the sisters got into other kinds of trouble.  Teresa went to the Kraków Art Academy and after a students' art exhibition came home one day to find an official-looking letter from her father in French.  She had painted a girl in a knee-length skirt, from the front, sitting down on a chair without crossing her legs.  From a frontal view, one could see the two knees, the line of skirt above, and a kind of shady area in between.  "That black triangle, it's obvious where it leads to!" ("Ce triangle noir, c'est evident où ça mène") thundered the General, and forbad her to sign any work of art with the name Ledóchowska ever again.  Another sister, Józefa or "Inka", fell in love with a man her parents disapproved of (because he had an incurable disease, according to Mieczysław).  Forbidden to marry him, she went into a convent and became a "Grey Ursuline" nun, a most wonderful order founded by her aunt St. Urszula, which runs orphanages in Poland and elsewhere until today.  There she wrote a book about her aunt (12).  Jadwiga, the eldest, became a "Black Ursuline" nun, the "normal" Ursulines, in a convent in Kraków.


Ignacy retired with his wife Paulina to her property at Wólka Rosnowska, just East of Krakowiec, where her mother Jadwiga Łubieńska owned a property, on the way to Lwów.  There Ignacy met a Jewish businessman Mr Laub.  I believe he was also a landowner as when I researched property owned by my family in the Lwów area I discovered that the Laub family owned an estate which I think amounted to around 300 hectares.  Years later in South Africa, after the Second World War, the Laub family, then in the diamond business, had fond memories of Ignacy, lent my father money to buy into a consulting engineering firm, and remained great family friends thereafter.  Ignacy's second daughter Teresa married a rich local landowner Stanisław Tyszkiewicz, who owned properties closer to Lwów.  For the rest of her life she signed her paintings Teresa Tyszkiewicz.  

Second World War

On 1st September 1939 the Germans invaded Poland from the West.  On 9th September Ignacy and Paulina retreated Eastwards to Lwów and shortly afterwards there were bitter battles between German and Polish forces in the area they had just left behind.  Paulina's mother's home Krakowiec was destroyed by Polish forces attacking a German HQ set up in the house.  Then the Russians invaded the Eastern part of Poland on 17th September and after a five day siege took control of Lwów.  Within a few days they started arresting and executing or deporting the educated elite, landowners and retired officers.  Ignacy, a retired General famous for his role in the Polish victory against Russia 19 years earlier, was initially hidden in the Ursuline Convent in Lwów.  He would have been of great interest to the NKVD (subsequently known as the KGB) and we now know that if arrested he would most probably have been killed in the Katyń massacres the following year.  So on 9th November he and his wife Paulina escaped from Lwów and went back Westwards towards the German occupation zone.  It turned out that people trying to escape from the Russian to the German zone could only enter with a bearer pass, which was extremely hard to obtain.  Then they met some Jewish people who had obtained passes earlier, and had seen, on arrival at the border, that the German guards were examining intensely all Poles trying to enter, searching and robbing them, and if they looked at all Jewish, were then beating them, arresting them or turning them back.  So the Jews decided they would be better off returning to Lwów after all and sold their passes to Ignacy and Paulina.
Ignacy and Paulina were admitted to the German zone using these passes, luckily without being searched or robbed, and eventually arrived at Lipnica Murowana, the property his sister Franciszka had inherited from their father.  (Ignacy had an officer's income and had acquired property by marrying Paulina.)  There he got to know Franciszka's grandson, Mieczysław, who passed on other tales of Ignacy's foibles.  For example, he had measured out a distance of exactly 2,000 metres (not one metre more or less) which he walked every day.  If he took people to a restaurant, he would call for the head waiter and announce loudly: "I am a General of the Polish Army and was awarded the Virtuti Militari.  Please give my guests the best possible food.  I don't care what you give me."  The headwaiter would click his heels, salute, say "Tak, Panie Generale", "Yes Sir, General, Sir", and make sure they got the best food.  Exactly what Ignacy's character was like from the point of view not of children, but of people his own age, is difficult to tell – but when I look at him in the two photographs dating from this period on this website, I see a smiling, kindly elderly person with a sense of humour.

Immediately after the German and Russian occupations the Poles started building their secret Resistance organisation, known initially as the ZWZ and then the Home Army ("AK").  My father Wladimir joined in November 1939, and was sent as a courier smuggling reports and documents across the snow covered mountains to the South in the freezing winter to the Polish Embassy in Budapest.  He saw his parents over Easter in Kraków in 1940 and there in secret talks learnt that Ignacy, given his prominent social position, had become involved with the Resistance without telling his wife and had agreed to raise funds for it.  This was later confirmed by Konstanty Łubieński, a prominent Resistance leader who had a rather controversial career in the early Communist years. 
My father was caught by border guards on his next trip back from Budapest, escaped, did not return to Poland for the next 16 years, and never saw his father Ignacy or his mother Paulina again.  However in August 1940, when Ignacy and Paulina were staying with the Łubieński family at Zassów, the Gestapo came and questioned them about their son Wladimir:  Was he hiding in the house?  Where does he normally stay in Kraków?  Why did he leave his job?  What was he doing in Budapest?  They replied that they had no idea.  This of course made his parents very worried but at least they knew he was probably alive.  The Gestapo also questioned his sisters in Warsaw, who also replied (truthfully) that they had no idea.

After the Germans attacked Russia in June 1941 it turned out that the 600 hectare forest of the Wólka Rosnowska estate was safe – but then the Germans cut it down, to Ignacy's great mortification, as he had been telling everyone that he had been preserving it for his son.  As the war progressed and the AK got ready to rise up against the Germans, Ignacy, using the pseudonym "Krak", took part in military exercises and gave training in artillery, still without telling his wife. 
As a retired officer, Ignacy received a small pension, recognised by the German authorities, but this rapidly devalued with high inflation.  He and his wife got involved in the local illegal underground schools.  He taught German and she taught English and French, which gave them a small additional income.  One day in 1942 they received a letter from a Mr Żurawski in Turkey, written very formally "Dear Sirs", wondering how they are after their meeting before the War and whether he could send them a parcel.  From the handwriting they knew this was from their son Wladimir - so he was alive!  After they replied he sent them a parcel of Turkish coffee which they could sell on the black market.
They then lived through a terrible period when all Jews were told to move to a newly formed Ghetto in a nearby town. Those who refused were shot. The Germans arrived and searched the forests and everyone's homes for Jews, shooting those hiding them and taking the Jews to the local cemetery where they were shot and thrown into a ditch.

Two German letters

Towards the end of 1943 and early 1944 Ignacy learnt that his cousins the Roznowski family, who had settled in Berlin and had become Germanised, had suffered a great misfortune: three of their homes had in turn been destroyed by Allied bombing.  Dr Johannes Roznowski ran a medical practice, in which he had also been secretly treating French and Polish slave workers for free, and this had been completely destroyed.  On 4th January 1944 Ignacy wrote a letter of comfort to his "enemy" cousins in excellent German, which they passed on to me 60 years later:
"My dear, good Johannes!  We are truly wanting for words to express what we feel for you in your misfortune.  We continuously think and talk about you and wonder how you may be feeling.  May God give you strength and comfort to bear your afflictions.  May the proverb "Shared sorrow is only half sorrow" be true for you too.  You were so good to us in our misery, how we wish we could be equally good to you!  I assume and hope that you will get help from all sides in Berlin to make the heavy task of reconstruction easier for you.  Will you be able to continue with your medical work?  I think yes.  If you or my dear cousin have time, please write to us soon.  We are now more anxious than ever to be in spiritual contact with you.  I kiss the dear cousin's hand and please, good Johannes, accept most cordial greetings, Your old cousin, Ignaz." [translation by Professor Dr Hans-Jűrgen Diller of Bochum]

Shortly afterwards the Roznowski parents committed suicide.  On 27th February 1944 Ignacy wrote a letter of condolence to another more distant cousin looking after their estate and their children:

"Dear Councillor, My wife and I thank you most warmly for remembering us in these hard times.  Your dear esteemed letter has profoundly moved us…….I have kept all letters from Johannes.  All of them testify clearly and plainly to the great and noble heart of our close/near relative……Johannes' father was my wife's specially beloved, unforgettable, beloved uncle.  Johannes resembled his father in every respect.  The last messages from Johannes left no doubt that he had forebodings of a tragic destiny……….And the two poor children!  I assume you will be Thomas' guardian…….Your devoted Ignaz Ledóchowski,   during World War I Colonel of Artillery in the Austrian Army, 73 years old" [translation by Professor Dr Hans-Jűrgen Diller of Bochum]  (It should be borne in mind that these letters were also written for the benefit of the German censor.) (10)

There can be no doubt about the warmth and humanity of the author.

Arrest

In spring 1944 the AK started organising large scale manoeuvres in the forests.  By now the local AK was a large well organised local unit with General Ignacy Ledóchowski (pseudonym "Krak") at its head (13).  In June a full field Mass was arranged, the Polish flag raised, and General Ignacy, as a well-known public figure, took the parade to raise morale. He told Paulina what he had done. In the heady atmosphere people abandoned caution and took photographs.  A young woman was arrested a bit later with these photographs in her rucksack.  Polish intelligence sent someone to visit Ignacy to see him alone and warn him to go into hiding as he too would be arrested.  He replied: "I cannot go into hiding in the forests because I cannot take my wife, who is an elderly lady.  If I am not here, the Gestapo will arrest her and torture her to blackmail me.  Let them arrest me." Anyway he thought that as a 73 year old the chances of arrest were not that high.  In her memoirs Paulina writes that she pestered Ignacy to tell her what that visitor had said.  Ignacy finally told her about the warning and his refusal to leave.  They could not sleep all night and one day in July as dawn was breaking they thought that the night time arrests by the Gestapo were over.  Almost immediately afterwards the Germans arrived and asked if he was General Ignacy, the former commander of the Łódź area.  He replied "yes" and asked permission to dress, to pray and to say goodbye to his wife.  He then said loudly "For you, Poland" and was driven away.


Ignacy was initially held in jail at Montelupich Street in Kraków for a month.  The family immediately got in touch with their Austrian cousins.  Count Roniker, a prominent Austrian, lobbied the Gestapo, arguing that Ignacy was really an Austrian citizen born in Austria, had fought for the Germans and Austrians very bravely and been heavily decorated during the First World War, and was now a rather harmless old man who was a bit confused about being Polish.  The Austrians in the Gestapo promised that Ignacy would be very gently treated.  He just had to give his word of honour as an officer and a gentleman that he had nothing to do with the AK, and he would be released. 

However to everyone's frustration Ignacy announced that he had to say that he was with the AK.  When the Gestapo finally interrogated him he replied: "I cannot tell the truth and I cannot tell a lie.  I give you my word of honour that I am an officer of the AK and you will not get anything more out of me."  Whether they tried to torture him or not is not known, but he kept his word and betrayed no-one.  The Gestapo gave up on him.  Shortly afterwards the AK attacked a jail in a nearby town and liberated all the resistance and other prisoners.  The Germans decided the Kraków jail was no longer safe and sent Ignacy and others to the Gross-Rosen concentration camp and from the point of view of our family he disappeared.

Dora-Mittelbau

In around 1970, when I was a teenager in South Africa, I found my father sitting by the fireside with a letter in his hand.  He told me that he had just received a letter from a survivor of a concentration camp in Germany, who wished to tell him that Ignacy had become very ill and had refused all food and medicine, insisting that it go to younger prisoners with families to look after.  He had been praying all the time and the German guards had nicknamed him "Die Heilige General" – the "Holy General".  He had eventually died in March 1945.  With tears pouring down his cheeks, my father told me that although he and his sisters had always joked about the crusty old "Hannibal", he had suddenly realised how human he was and how much he had really loved him all along.  The relevant German concentration camps were in East Germany, which initially tried to destroy and cover them up, and Communist East Germany was in any event very difficult for anyone to visit, from the West or from Poland.  So my father learned no more about his father's last months before he himself died in 1987.

Later still, in the early 2000s, I was contacted by Joachim Neander who knew something about Ignacy's death from Dora-Mittelbau, was writing the article about him now published on the German page of this website, and asked me for help.  I was then contacted by the organisers of a new Museum to be opened at Dora and asked for information on Ignacy in exchange for an invitation to the opening ceremony in 2006.  As a result of my renewed interest in Ignacy I also obtained a copy of the March 2000 Gazeta Wyborcza ("GW") article on the Polish page of this website.  The Roznowskis now living in Germany got in touch with me and sent me the correspondence above.  There is also a page on Ignacy in Wikipedia.  I was indeed invited to the Dora-Mittelbau opening ceremony in September 2006, where I learnt all about the amazing V1 and V2 rocket construction programme, the suffering of the prisoners there and the admirable efforts of the Museum staff to present the full story.  From these sources I was able to piece together Ignacy's last months.

In Gross-Rosen, Ignacy had been forced to work in a weaving factory, but being old and weak was looked after by other prisoners, who helped him fulfil his quotas.  Without them he would have quickly died.  Probably in January, in deeply sub-zero temperatures, as the Russian army was approaching, the prisoners were transferred in their striped pyjama type prisoners' clothes to Dora-Mittelbau.  The GW article says they were transferred in open coal trucks, while the Museum implies this may have been all or partly a forced "Death March".  In any event, without any food for many days the weakened Ignacy became very ill, according to the GW, with pneumonia.  Neander believes Ignacy's prisoner number means he arrived in Dora between 12th and 17th February.

In the Dora museum is a letter dated 25th February written by a Felix Reis (?) on behalf of Ignacy, who was too weak to write himself, although he was able just to sign it "Naz" (short for the German version "Ignatz" of his name "Ignacy") to his cousin Karl Ledóchowski-Thun in Salzburg.  The letter is in German and stamped by the censor.  Correspondence could only be in German otherwise the censor would not understand it.  In it Ignacy says he is "well", which the other evidence suggests was the only lie he ever told, and reports that he was receiving 30 Reichsmarks a month, which presumably his Austrian cousin was sending him.  He was probably being given special privileges as an honorary Austrian who spoke better German than Polish. 
However we know from the letter my father received in 1970 or so that Ignacy was giving away all his food, so one wonders if the money he was receiving was going on this.  The GW article quotes a priest, Father Lipiński, saying that Ignacy refused to accept any medicine or an injection worth its weight in gold, saying it should be kept for younger prisoners with young children and the chance of survival.  Everyone present was deeply moved, but kept arguing with him. 
Ignacy's last words were:  "I have said goodbye to the living, the dead are calling me.  Allow me to die in peace."

Dora-Mittelbau has allowed me to display page 213 of its death register on the left. If you click to enlarge, you will see prisoners who died on 6th March 1945, with their death entry numbers.  
For example:
Number 7222 Jude = Jewish; 7223 Pole; 7224 Fra = French, 7225 Russe = Russian, 7226 Pole, 7227 Russe = Russian, 7228 R/d = ?, 7229 Pole, 7230 Jude = Jewish, etc.  
Death entry number 7226, was a Pole, prisoner number 113195: Ledochowski Ignatz, born on 5.8.71:
I am very grateful to Dora-Mittelbau for giving this information to me and am very aware of the number of times Germany (as opposed to Austria, Russia and other countries) has apologised for its horrendous war crimes.  As far as I am concerned it is time to accept Germany's apologies and focus on others that are wholly inadequate.
After the War
Ignacy's sister Franciszka's family were not allowed to come within 30 kilometres of the home she had inherited from her father in Lipnica Murowana for the next decade of Communist rule imposed on Poland.
The Lwów region was taken away from Poland by the Allies so Ignacy's family never saw their homes again for the rest of their lives.  Six months after the end of the War, Ignacy never having returned from German imprisonment, he was considered dead.  A priest finally arrived to say he had witnessed Ignacy's death.  A memorial mass was held in a crowded church at Lipnica Murowana, all his decorations taken up to the altar on a cushion.
Paulina, Ignacy's widow, was devastated.
General Ignacy's wife Paulina
My father, having served the Allies faithfully in North Africa and then in Polish Military Intelligence, was unable to visit the newly relocated Poland until 1956 and so never saw his mother again. 
Paulina died aged 71 in the care of her daughter Józefa or "Inka" in her Grey Ursuline convent and was buried in the local cemetery in Otorowo, West of Poznań, in 1951.  
If medically possible, the cause of her death was a broken heart.

Jan Ledóchowski, 2012
Sources:
(1) "… aby pozostał nasz ślad"  ("...so we may leave a trace").  Mieczysław Ledóchowski.  Published by Towarzystwo Przyjaciół Ossolineum,  Wrocław 2002.  ISBN Number 83-7095-051-5. Pages 114 – 127.
(2) Generałowie Wojny Polsko-Sowieckiej 1919-1920.  Mały słownik biograficzny. (The Generals of the Polish-Soviet War 1919-1920.  A small biographical encyclopedia.)  Andrzej Suchcitz.  Published by the Ośrodek Badań Historii Wojskowej, Muzeum Wojska w Białymstoku, Białystok 1993.  Page 42.
(3) Gazeta Wyborcza (The Election Gazette) newspaper, Warsaw, 9th March, 2000.
(4) Polen und Wir (Poland and Us) Zeitschrift fűr Deutsch-Polnische Verständigung.  March and April 2004, articles by Joachim Neander.  Published by Geschäftsfűhrung der Deutsch-Polnischen Gesellschaft der BRD, Hűnxe, Germany.  Article in original German.
(5) White Eagle Red Star, The Polish-Soviet War 1919-20.  Norman Davies.  Published by Macdonald, London, 1972. SBN Number 356 04013 5. 
(6) Wikipedia.
(7) Z nowu wojna... (War again).  Memoirs of Paulina Ledóchowska née Łubieńska, Ignacy's wife.  Written in 1945 and preserved in the Główne Archiwum Zgromadzenia Sióstr Urszulanek Serca Jezusa Konającego (Central Archive of the Grey Ursuline Sisters) in Pniewy, Poland.
(8) Death Register page displayed on this website by kind permission of KZ-Gedenkstätte Mittelbau-Dora, Nordhausen.
(9) In 2016 Retired Colonel Vaclav Bednar emailed saying he was planning to give a talk about Ignacy in Hranice, Czech Republic, and attaching photos of materials about Ignacy in the Central Military Archive in Prague.
(10) Information kindly supplied by the von Rożnowski family in Germany.
(11) Our Lady's Column at Podkamień, near Leduchów.  Funded by Stanisław Ledóchowski (1666-1725) in 1719 to commemorate the Tarnogród Confederation.  Photograph by Stanisław Ledóchowski (1932-) in 2004 (9, p96).
(12) Życie dla innych.  Urszula Ledóchowska.  A life for others.  Józefa Ledóchowska, daughter of St. Ursula's younger brother Ignacy.  Pallottinum, Poznań 1984.  ISBN 83-7014-002-5.
(13) Websites connected with Lipnica Murowana list the commanders of the local AK units, with General Ignacy (pseudonym "Krak") in first position.