Antoni Ledóchowski 1895 - 1972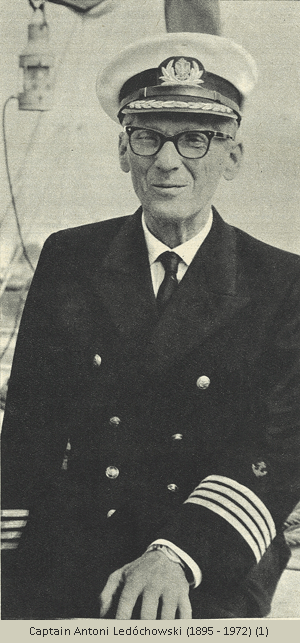 Antoni Ledóchowski is well known in maritime circles, having had a naval training ship, a planetarium, a school and several streets named after him.  He was both a ship Captain and a Professor.  
Antoni learnt his profession in the Austrian Navy during the partitions.  After Polish independence he transferred to the Polish Navy and ended up at the Maritime School teaching navigation, where he had to invent a lot of astronavigation terminology in Polish and became known as the "Father of Polish Navigation".
Afer the German invasion in 1939 he was arrested, eventually released and then expelled from the Baltic area.  He moved to his family home at Lipnica Murowan.  There he was active giving secret training to the Resistance ("AK") (3).
He was fired in the early Communist years for refusing to introduce communist party ideology into his navigation courses.
He was eventually rehabilitated and wrote eight text books.
For a short biography in English click here.
For his full biography in Polish, written by his son Mieczysław, click here.
Notes:
(1) Photo from Mieczysław Ledóchowski.
(2) Astronavigation book picture from a bookseller's website.
(3) Websites connected with Lipnica Murowana list the commanders of the local AK units, with Professor Antoni Ledóchowski included in the secret training unit.